"*" indicates required fields
Randy's will never share or sell your personal information and will only contact you about your inquiry!
Partner with a owner operated tree business on your next tree job!
Randy's is one of the most preferred tree services in Berkeley Heights!
Recent Tree Service Jobs in Berkeley Heights
Raising the bar for tree service in Berkeley Heights, NJ!
Looking for a "tree service near me" or "tree company Berkeley Heights"? You're in the right place! Learn about Berkeley Heights's tree ordinances and permit information related to tree work. Randy's Pro is licensed in the state of NJ with the Board of Tree Experts and is compliant with all local and state regulations. For your peace of mind, Randy's is also fully insured for liability and workers compensation.
NJ Home Improvement License #13VH06833600
NJ Tree Company # NJTC 806509
Recent Tree Jobs in Berkeley Heights
Berkeley Heights Table of Contents
Randy's Pro Landscaping & Tree Service proudly working in Berkeley Heights since 2008! We're a complete tree service and offer free, in-person tree consultations and estimates. Feel free to text or call us at 732-592-1577 or fill out the form for a prompt reply from Randy.
Whether you need a tree removed or stump grinding, or your precious trees artistically pruned and shaped, Randy himself will visit your property to hear your concerns and offer his advice.
Randy's Tree Service is Berkeley Heights's #1 company in customer satisfaction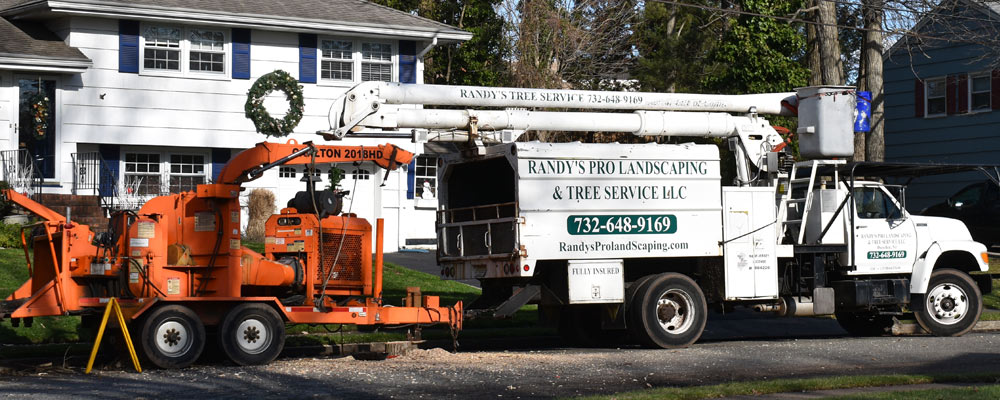 ---
Tree Removal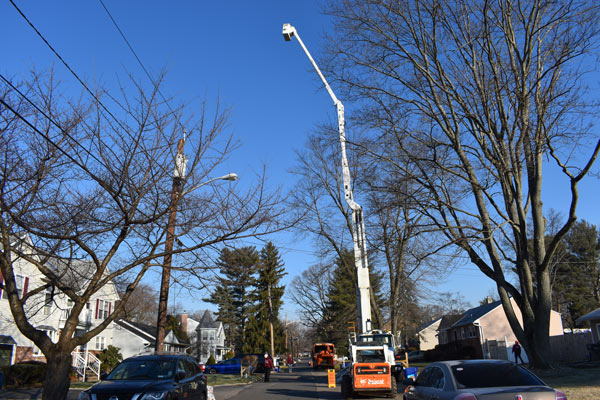 While trees beautify your landscapes and have many environmental benefits, they can become dangerous to you and your home. At Randy's we remove trees of all sizes and of all hazard levels in Berkeley Heights. We have several bucket trucks with some extending up to 110 feet into the air to handle even the largest trees. We have the experience and equipment to help you safely deal with unwanted trees of all sizes. Please refer to Berkeley Heights's tree ordinance to determine if a permit is required.
---
Tree Pruning & Trimming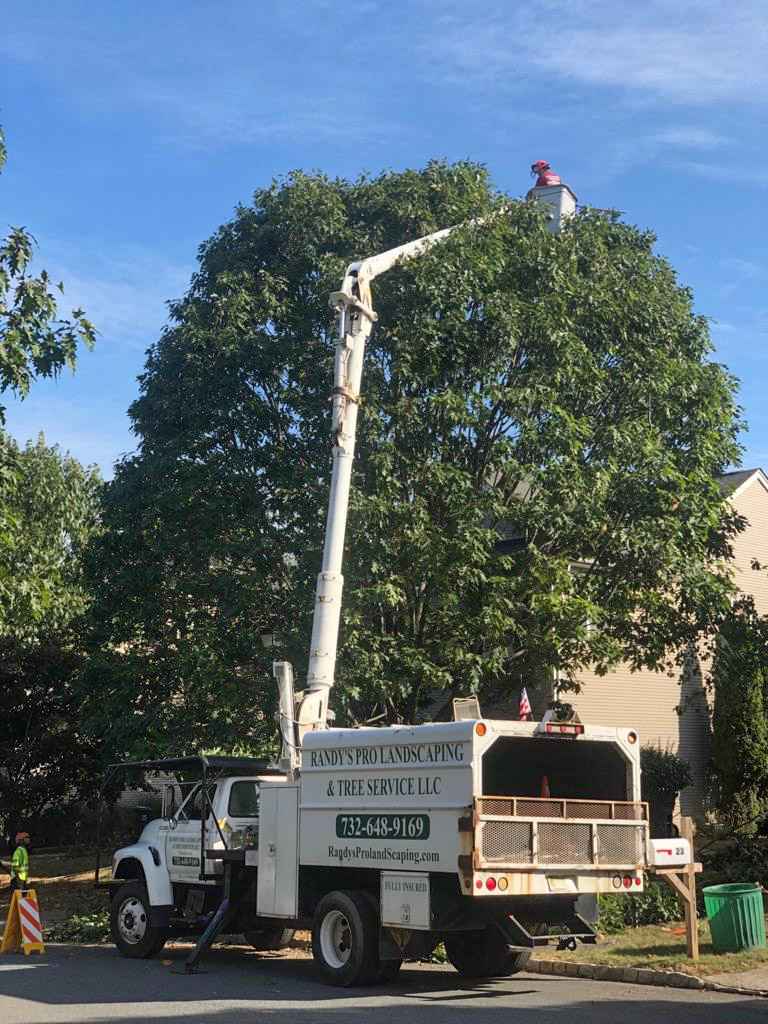 When you neglect your trees by not regularly pruning them, the nutrients are wasted on weak parts, which deprive the healthy parts of what they need to grow. Preemptive pruning and trimming will give your trees nice form and shape while getting rid of the weak limbs. This can prevent potential damage to your home during storms or heavy winds, saving you thousands on repairs. Randy will identify high-risk trees during your consultation and recommend solutions.
Randy's Pro Landscaping performed an exceptional job pruning all of the oak trees in my yard. I have a large backyard and it looks amazing. His team did an unbelievable job not only in the actual pruning but in the prep before and the cleanup after. It was worth every penny and I would highly recommend them to anyone looking for a truly professional result.

---
Stump Grinding & Removal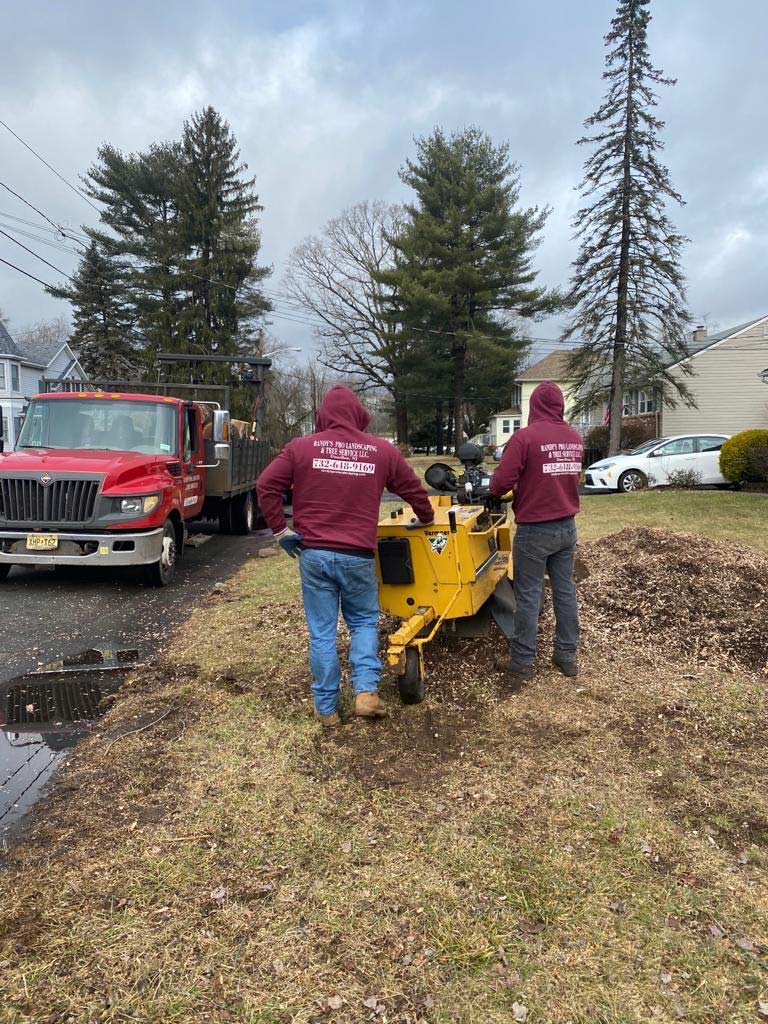 Stumps are dangerous to keep in your yard, especially if you have kids. Removing them will not only make it safer, but also improve the appearance of your yard. The most common and cost-effective stump removal method is to grind them using a stump grinder. Stumps can also be removed by excavating them. Regardless of whichever stump removal procedure you decide, Randy's takes care of calling 811 for your utilities to be marked out before the day of the job. This will prevent breaking any pipes that may run through your stump.
---
Emergency Tree Response
Every season can bring unpredictable weather in Berkeley Heights. Storms, rain, wind, ice and snow all cause damage and stress to the trees on your property. This results in branches falling, trees splitting, or even uprooting. During this unfortunate and stressful time, you can rely on Randy's to quickly respond to your emergency.
---
Berkeley Heights Tree Consultation
Contact Randy's Pro for any tree service.
Randy's Pro will visit your property and listen to your concerns or requests and assess the situation.
We will provide you with an estimate via email that outlines everything that will be included in your tree job.
When you are ready to begin, Randy's will schedule a start date at your convenience and provide you with an estimated completion date.
---
Berkeley Heights Tree Ordinances & Permit Process
Please click here Tree-Removal-Permit-Application or create an account with SDL Portal SDL Portal to complete the Tree Removal Permit Application and keep status of your application or you can also submit it via email at

[email protected]

or via fax at 908-464-3791.
The homeowner, at the time of the application process shall pay a fee of ten dollars ($10.00) for each tree to be removed or destroyed.
Fees shall not be charged for emergency removals when notice to the tree inspector shall have been given in accordance with subsections A and B of Section 12.16.070 for removals by any governmental agency.
Permits may be granted for removal of up to three living trees in a calendar year at the ten-dollar ($10.00) fee. If removal of additional living trees is approved, a fee of fifty dollars ($50.00) for each must be paid to the tree trust fund.
Watch out for those penalties! According to the town's ordinances related to tree removals "Any person violating or causing to be violated any of the provisions this chapter shall be subject to a fine of not more than one thousand dollars ($1,000.00) and shall replace each tree destroyed or removed in violation of this chapter with another tree of the same species, at least two inches in diameter measured at a point four feet above the ground. Each tree destroyed or removed in violation of this chapter shall be considered a separate offense. Failure to secure a permit prior to removal or destruction shall be a violation of this chapter".
Please click here: Title 12 – STREETS, SIDEWALKS AND PUBLIC PLACES | Code of Ordinances | Berkeley Heights Township, NJ | Municode Library to view Chapter 12.16- Trees* Ordinances
For additional information please contact the town's Zoning Officer, Tom Bocko at 908-464-2700 x 2115 or via email at

[email protected]

It is highly recommended to always check directly with your town's most current ordinances as they can change from time to time.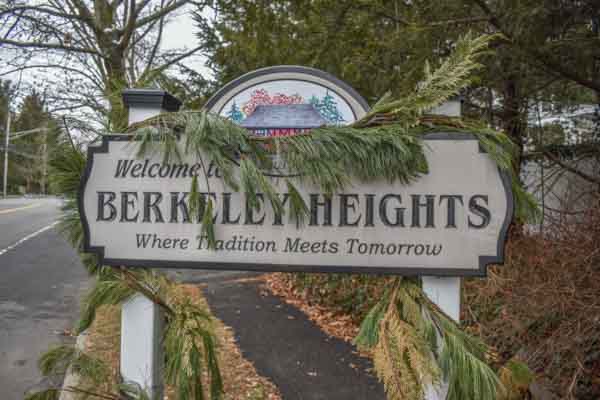 Free Expert Tree Consultation
Need an estimate for tree service near or in Berkeley Heights, NJ? Answer a few quick questions for a prompt reply from Randy himself!
"*" indicates required fields
*Randy's will never share or sell your personal information and will only contact you about your inquiry!
FAQs
Q: Are you licensed and insured to provide tree services in Berkeley Heights?
A: Yes, we are fully licensed and insured. Our home improvement contractor license with NJ is #13VH06833600 and we are certified by the Board of New Jersey Tree Experts with registration number #806509.
Q: How many years of experience do you have providing tree services in this area?
A: We have been providing tree services in Berkeley Heights, NJ since 2008, ensuring quality and professionalism in all our projects.
Q: Can you provide references from other homeowners in Berkeley Heights you've worked for?
A: Yes, the best thing would be to check out our Reviews Page or our Google Profile.
Q: What specific tree services do you offer?
A: We offer a comprehensive range of tree services, including tree removal, pruning, stump grinding, and emergency tree services.
Q: Do you provide free estimates?
A: Yes, we provide free estimates for all tree services in Berkeley Heights. Please call us at 732-592-1577 to schedule an appointment or contact us.
Q: How do you determine the cost of a tree removal or other service?
A: Our pricing is based on the size, location, and complexity of the job. We ensure transparency in our estimates and stay competitive with other local tree service companies in Berkeley Heights.
Q: What safety precautions do you take when performing tree services?
A: Safety is paramount to us. We adhere to industry safety standards and use protective equipment for all tasks. Our team undergoes regular safety training, ensuring they are updated on the latest safety protocols. Before starting any job, we conduct a thorough risk assessment to identify potential hazards and take necessary precautions.
Q: How long will it take to complete the service?
A: We aim to start and complete jobs as soon as possible. When giving you an estimate, we will be able to give you an estimated start date and how long the job will take.
Q: How do you handle the disposal of tree debris?
A: All debris will be removed from your home and disposed of at an appropriate facility. We can also include cutting and stacking firewood as part of your job.
Q: Are there any local regulations or permits required for tree removal in Colonia?
A: Things are always changing in Berkeley Heights. We are well-versed with local regulations and will guide you on any necessary permits. Call us at 732-647-9953 for more information.
Q: What is the best time of year to prune or remove trees?
A: We can provide tree services year-round, but we'll advise on the best time based on the specific needs of your trees.
Q: How do you handle payment?
A: We offer various payment options for the convenience of our clients. More details can be discussed during your estimate, however we accept check, cash and all major credit cards.
Q: Are there any potential additional costs?
A: We aim for transparency in our estimates. Any potential additional costs will be discussed upfront such as having a stump grounded after a tree removal.