"*" indicates required fields
Randy's will never share or sell your personal information and will only contact you about your inquiry!
Setting the standard for tree service in Lebanon, NJ!
Searching for a "tree service near me" or "tree company Lebanon"? You're in the right place! Learn about Lebanon's tree ordinances and permit information related to tree work. Randy's Pro is licensed in the state of NJ with the Board of Tree Experts and is compliant with all local and state regulations. For your protection, Randy's is also fully insured for liability and workers compensation.
NJ Home Improvement License #13VH06833600
NJ Tree Company # NJTC 806509
Lebanon Table of Contents
Randy's Pro Landscaping & Tree Service proudly serving in Lebanon since 2008! We're a comprehensive tree service and offer free, in-person tree consultations and estimates. Feel free to text or call us at 732-592-1577 or fill out the form for a prompt reply from Randy.
Whether you need a tree removed or stump grinding, or your precious trees artistically pruned and shaped, Randy himself will visit your property to hear your concerns and offer his advice.
Randy's Tree Service is Lebanon's #1 business in customer service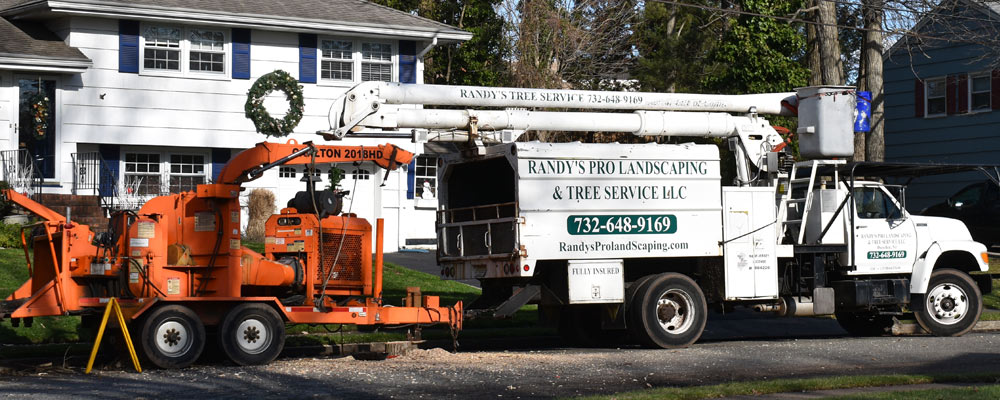 ---
Tree Removal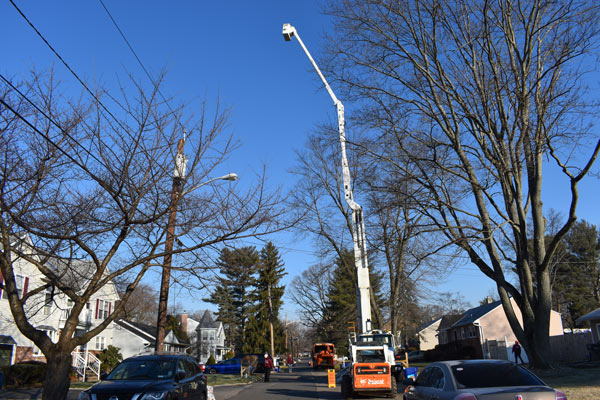 While trees beautify your landscapes and have many environmental benefits, they can become dangerous to you and your home. At Randy's we remove trees of all sizes and of all hazard levels in Lebanon. We have many bucket trucks with some extending as high as 110 feet into the air to handle even the largest trees. We have the experience and equipment to help you safely deal with unwanted trees of all sizes. Please refer to Lebanon's tree ordinance to determine if a permit is required.
---
Tree Pruning & Trimming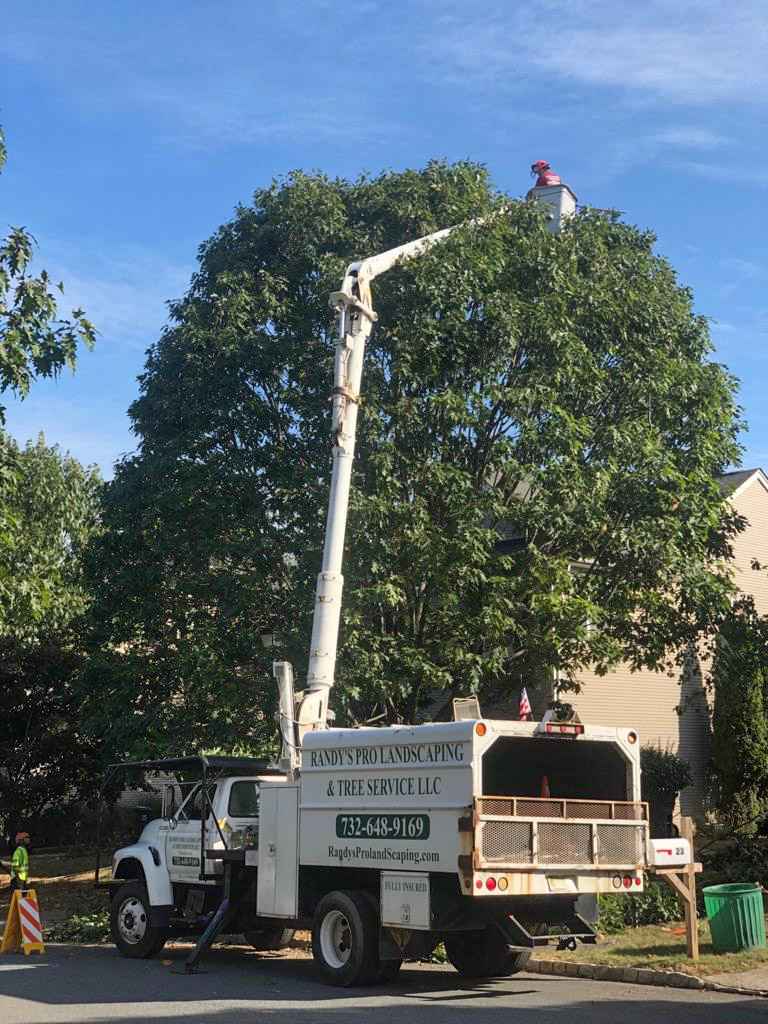 When you neglect your trees by not regularly pruning them, the nutrients are wasted on weak parts, which deprive the healthy parts of what they need to grow. Preemptive pruning and trimming will give your trees nice form and shape while getting rid of the weak limbs. This can prevent potential damage to your property during storms or heavy winds, saving you thousands on repairs. Randy will identify high-risk trees during your consultation and recommend the best course of action.
---
Stump Grinding & Removal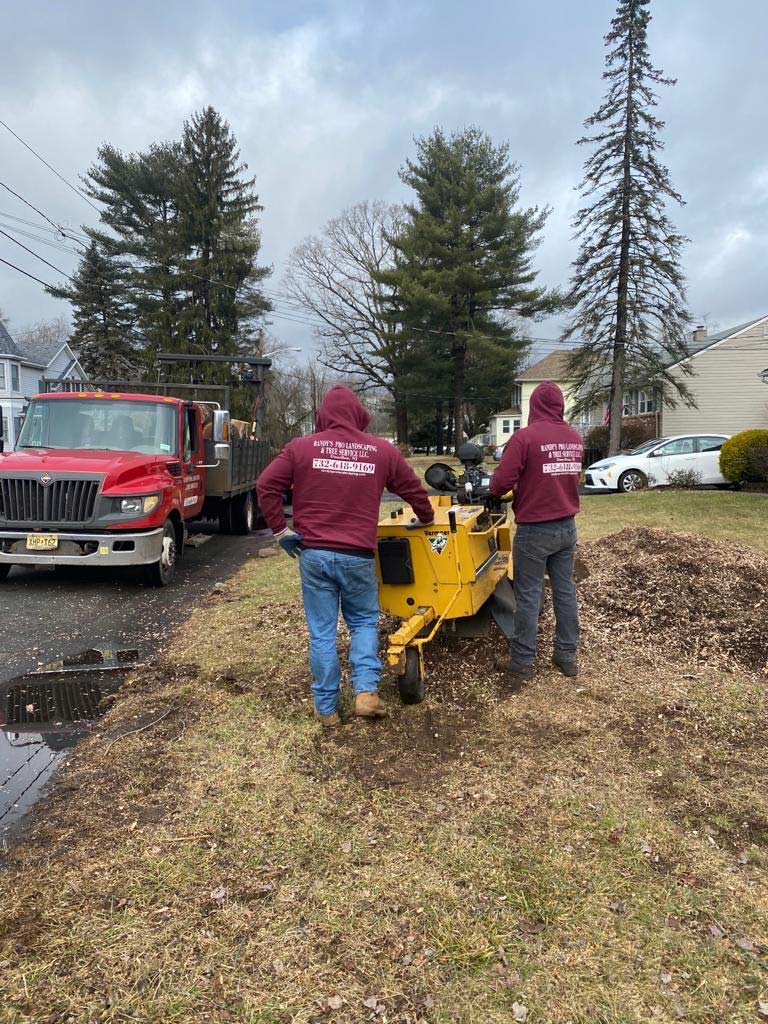 Stumps are dangerous to keep in your yard, especially if you have kids. Removing them will not only make it safer, but also improve the appearance of your yard. The most common and cost-effective stump removal method is to grind them using a stump grinder. Stumps can also be removed by excavating them. Regardless of whichever stump removal procedure you decide, Randy's takes care of calling 811 for your utilities to be marked out before the day of the job. This will prevent breaking any pipes that may run through your stump.
---
Emergency Tree Response
Every season can bring unpredictable weather in Lebanon. Storms, rain, wind, ice and snow all cause damage and stress to the trees on your property. This results in branches falling, trees splitting, or even uprooting. During this unfortunate and stressful time, you can rely on Randy's to quickly respond to your emergency.
Words cannot express the amazing experience that I had with Randy's Pro Tree and Landscaping Service. From the initial call that I made to their business they were professional, courteous and highly responsive. The workers cleaned my yard, installed a fence and removed a tree. Throughout the project, they maintained cleanliness and professionalism. They even cleaned debris that had blown from my yard to my neighbors yard. You cannot go wrong with this company! Awesome work!
---
Lebanon Tree Consultation
Contact Randy's Pro for any tree service.
Randy's Pro will visit your property and listen to your concerns or requests and assess the situation.
We will provide you with an estimate via email that outlines everything that will be included in your tree job.
When you are ready to begin, Randy's will schedule a start date at your convenience and provide you with an estimated completion date.
---
Lebanon Tree Ordinances & Permit Process
A tree permit removal is not required unless the tree has a diameter greater than 10 inches, measured from a point 4 1/2 feet above ground. No person shall cut or remove any tree upon any lands within the Township of Lebanon, in the County of Hunterdon, unless the aforesaid accomplishes a cause in accordance with the regulations and provisions of the town's ordinance (§ 349 Trees).
The town's code also lists some exceptions from obtaining a permit, such as:

Single-family dwellings. Any tree located on a tract of land five acres or less in size where slopes do not exceed 25% on which a single-family dwelling has been erected. This applies to all properties where slopes exceed 25% except for an exempt area of 100 feet in all directions from an existing residence.

Nurseries, garden centers, etc. Any tree growing on property being used as a nursery, garden center, Christmas tree plantation, or orchard.

Land used for surface mining or public utilities. Any tree growing on land being used for surface mining or public utilities.

Public right-of-way. Any tree growing in a public right-of-way as shown on an approved preliminary or final subdivision or site plan map, official map, or current tax map.

Dead or diseased trees; agricultural advancement purposes. Any dead or diseased tree that is likely to endanger the occupant, the public, or an adjoining property owner, or any tree cut for use as firewood, posts, rails, or building materials, provided it is for the personal use of the owner or occupant of the land on which the tree was located before cutting and for use on that land and not for resale or commercial purpose. Any tree growing on property actively operated under farmland assessment which is removed for reasons that advance agricultural purposes for that farm and not resold.

Cutting or removal in accordance with woodland management plan. Any tree cut or removed in accordance with a woodland management plan developed by the New Jersey Department of Environmental Protection (NJDEP), New Jersey Forest Service, or other professional forester, and filed with the enforcing office such as Township Forester, Construction Code Official, Township Engineer, certified tree expert or other persons knowledgeable in these duties, duly appointed by the Township of Lebanon. The woodland management plan shall be approved by the New Jersey Forest Service when required to qualify the property for farmland assessment values.

Fees. The applicant at the time of filing said application shall deposit with the Zoning Officer a fee for the permit according to the following schedule:
Number of Trees Permit Fee
5 to 15 $50
16 to 31 $100
32 to 50 $150
51 to 75 $200
76 to 100 $250
Over 100 $300
To request an application or additional information, please contact Zoning Offer, Joseph Hauck, at 908-236-2072 or at

[email protected]

, and he is available evenings & weekends! – Not too many towns have this option, so this is a very good perk! Go Lebanon!!
It is highly recommended to always check directly with your town's most current ordinances as they can change from time to time.
Free Expert Tree Consultation
Need an estimate for tree service near or in Lebanon, NJ? Answer a few quick questions for a prompt reply from Randy himself!
"*" indicates required fields
*Randy's will never share or sell your personal information and will only contact you about your inquiry!
FAQs
Q: Are you licensed and insured to provide tree services in Lebanon?
A: Yes, we are fully licensed and insured. Our home improvement contractor license with NJ is #13VH06833600 and we are certified by the Board of New Jersey Tree Experts with registration number #806509.
Q: How many years of experience do you have providing tree services in this area?
A: We have been providing tree services in Lebanon, NJ since 2008, ensuring quality and professionalism in all our projects.
Q: Can you provide references from other homeowners in Lebanon you've worked for?
A: Yes, the best thing would be to check out our Reviews Page or our Google Profile.
Q: What specific tree services do you offer?
A: We offer a comprehensive range of tree services, including tree removal, pruning, stump grinding, and emergency tree services.
Q: Do you provide free estimates?
A: Yes, we provide free estimates for all tree services in Lebanon. Please call us at 732-592-1577 to schedule an appointment or contact us.
Q: How do you determine the cost of a tree removal or other service?
A: Our pricing is based on the size, location, and complexity of the job. We ensure transparency in our estimates and stay competitive with other local tree service companies in Lebanon.
Q: What safety precautions do you take when performing tree services?
A: Safety is paramount to us. We adhere to industry safety standards and use protective equipment for all tasks. Our team undergoes regular safety training, ensuring they are updated on the latest safety protocols. Before starting any job, we conduct a thorough risk assessment to identify potential hazards and take necessary precautions.
Q: How long will it take to complete the service?
A: We aim to start and complete jobs as soon as possible. When giving you an estimate, we will be able to give you an estimated start date and how long the job will take.
Q: How do you handle the disposal of tree debris?
A: All debris will be removed from your home and disposed of at an appropriate facility. We can also include cutting and stacking firewood as part of your job.
Q: Are there any local regulations or permits required for tree removal in Colonia?
A: Things are always changing in Lebanon. We are well-versed with local regulations and will guide you on any necessary permits. Call us at 732-647-9953 for more information.
Q: What is the best time of year to prune or remove trees?
A: We can provide tree services year-round, but we'll advise on the best time based on the specific needs of your trees.
Q: How do you handle payment?
A: We offer various payment options for the convenience of our clients. More details can be discussed during your estimate, however we accept check, cash and all major credit cards.
Q: Are there any potential additional costs?
A: We aim for transparency in our estimates. Any potential additional costs will be discussed upfront such as having a stump grounded after a tree removal.